'Even The Sounds Shine'
8 November, 2021
ckcvietnam
For a visually impaired person, sound can be a cause of deep shame, but it can also be a source of great solace or even lead to a bright start in life. That is Tran Thi Kim Chuan's story, the lead vocalist for the song "
Shining from within
".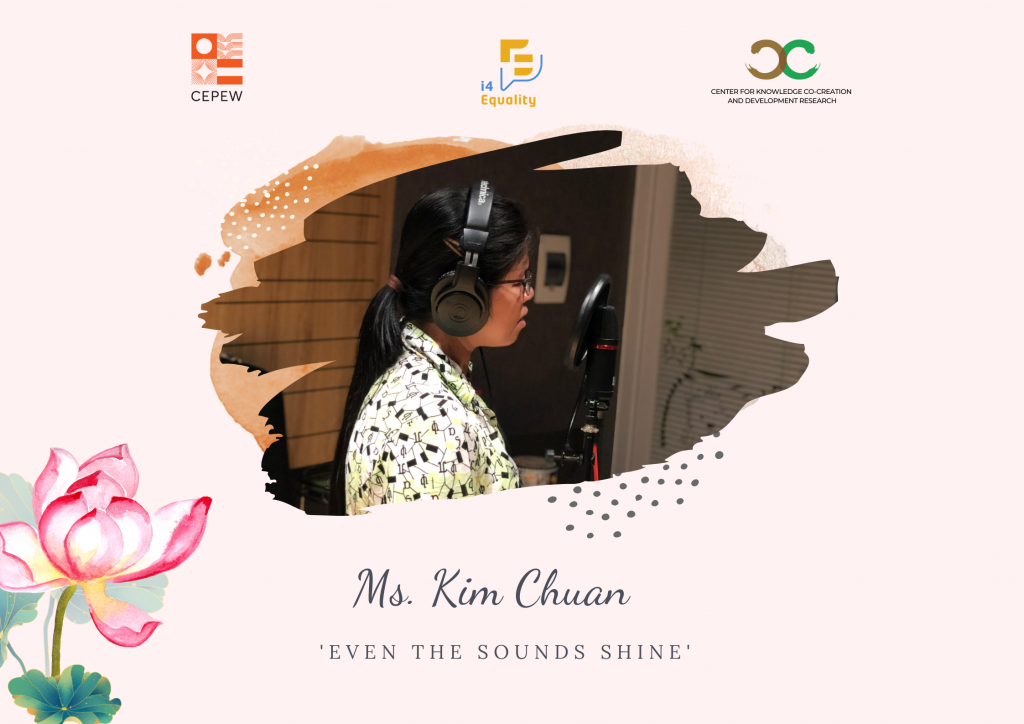 Born with a weak physique and impaired sight, all of Kim Chuan's ambiguous impressions about life are related with sounds and melodies. When she was a child with poor self-esteem, there was a sound that gave her hope for the future: the sound created when typing Braille letters. Braille letters not only open the door to knowledge for her and 'embosses' her sentiments about life, but it is also the sound that unites her with her peers – something she had desired for so long. Then, at the age of 12, she eagerly began attending an integrated class, much like a fledgling bird eager to leave its nest. However, the differences in studying materials, note-taking methods, and even the negative and discriminating comments of others around her eventually caused her to isolate herself once more. "I want the teachers to change the class for my child, because my child learns with blind friends who make noise with the letter board every day, which irritates my child's learning," or "I want the teachers to change my children's seats so that their academic performance does not suffer as a result of sitting next to blind friends who have my child read for them to write." Even as she was taking the university entrance exam, she could hear the examiner whispering: "Are you blind and still taking the exam? What exactly are you studying? Who will recruit you in the future?" Ms. Kim Chuan's childhood mental trauma is deeply imprinted and continues into adolescence and adulthood, but she has never given up in her pursuit of knowledge.
On such challenging journeys, sounds and melodies from music are just like friends who are always accompanying, soothing, accepting, and encouraging her to live with her own sparkle. She discovered that she not only enjoys the sounds of life, but she also wishes to make lovely sounds for her own life. She was captivated by the notes and lyrics from a young age. Since she was young, she has won more than 12 music competitions. In 2012, she was admitted to the Hue Academy of Music. Despite the fact that the difficulties never ended, she enabled herself to believe in miracles because of music. She spent time reading books and newspapers, learning from professors, and accumulating more knowledge and life experiences at the time. Ms. Kim Chuan was finally able to harvest the wonderful fruits of her effort with two excellent bachelor's degrees, majoring in Hue Folk Song (2016) and Vocal Music (2019) at Hue Academy of Music. In 2020, she created the 'Kim Chuan Khiem Thi' YouTube channel to share her passionate love for her hometown through traditional Hue royal court music songs. Ms. Chuan also writes poems every day for leisure, with a heart full of inspiration for life. She also expressed with excitement and satisfaction that two collections of poems she wrote about Hue are about to be published in the near future.
Despite the fact that Kim Chuan's life was a piece of music with ups and downs, she now recognizes that she is the one who determines how the melodies may continue to be formed.
It is our earnest optimism that she will always choose to write the bright melodies from a bold, determined, and loving heart.
Listen to the song "
Shining from within
" performed by Ms. Kim Chuan with other visually impaired women.
—
The story is based on Ms. Kim Chuan's speech delivered at the "Circle of Peace" gender equality training session on September 27, 2021.
The song "Shining from within" is part of the Project "Music-Based Storytelling: A New Approach for Promoting Gender Equality of Blind Women in Thua Thien Hue Province," which was initiated by Center for Research and Development and Knowledge Co-Creation (CKC) and collaborated with Center for Education Promotion and Empowerment of Women (CEPEW) through i4Equality Fund, with the participation of 20 visually impaired women from Thua Thien Hue Association of the Blind.
Chi Duong