Ms. Thanh Tien – A Blind Songwriter who Lights up her Life with Love
3 November, 2021
ckcvietnam
Ms. Truong Thi Thanh Tien's life, as a songwriter of the song "
Shining from within
" is an inspirational story about a journey from the dark to the light with passion for life and confidence in herself.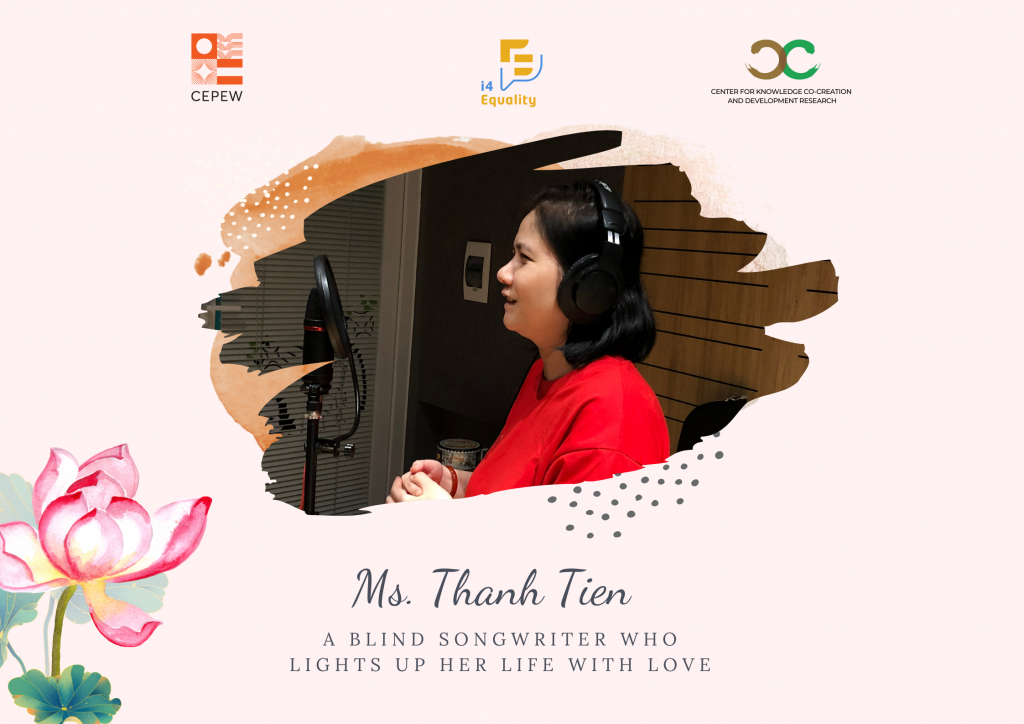 At the age of 23, Ms. Thanh Tien discovered she would lose her sight for the rest of her life, casting a dark shadow over her life. The familiar people and vivid images were still alive in her mind, but they had faded and vanished before her eyes. "I recall warmly kite flying with my pals on the Perfume River, climbing hillsides to gather flowers, or riding bicycles to the sea." I imagined I'd never be able to read books or write lines on a familiar white sheet of paper."
Years later, a glimmer of hope appeared in her life when she learnt about the character Mary in the movie "Little House on the Prairie" – a talented blind women who can read and write fluently and do many impactful things for society. After that, she discovered her second home – the Association of the Blind in Thua Thien Hue province, a place to heal her sorrow with love among people sharing the same suffering, and a place to brighten her learning path with Braille letters.
She started writing poems, composing music, and short stories. Her accomplishments over the years serve as encouragement for her to always have faith in the light within herself. Her poem "Bình minh trong mắt em" (Dawn in my eyes) won first prize in the poetry contest for people with disabilities in Thua Thien Hue province and was voted one of the ten best poems of Vietnam in the national poetry exhibition among six countries worldwide, including France, the United States, Japan, Brazil, Australia, and Vietnam. She has completed approximately 100 songs in more than 20 years of self-study in the field of music, covering a wide range of topics such as praising the nation and people of Vietnam, the love of nature, and the stories of the blind. In addition, three volumes of short stories written in Braille letters, "Kỷ niệm một buổi chiều thơ" (Recalling a poetic afternoon), "Ánh sáng cuộc đời" (Light of my life) and "Cánh diều tuổi thơ" (Childhood kite) are always carefully placed in the drawer as a reminder of her pride.
Ms. Thanh Tien's light emanates not only from her mind and heart, but also from her hands and smiling face, which illuminate countless miracles. Despite her blindness, she can still sew her own clothes, knit wool scarves, make bags and bamboo chopsticks with meticulousness. With those same hands, she has been nurturing her two children to become happy and kind people. Ms. Tien now simply smiles with gratitude as she recalls all of her life's incidents "My life is still rather wonderful, dear. There were nights when I sobbed while holding my child in my arms. But I told myself that I had to go on so that my children would realize that even if my eyesight was failing, I still had a brilliant intellect, a loving heart, and deft hands, and we would light up the future path together. That is something I am grateful to realize."
That confession, along with the stories of many other visually impaired women, was presented in the song "Shining from within" composed by Ms. Thanh Tien in a very genuine and touching way. Each of those melodies and lyrics make people feel as if all differences have been erased, and all that remains in each person's heart is the glowing light of love…
"Amidst the hustle-bustle of daily life,
I feel like a brilliant star,
shining from the depths of my soul.
My heart is like a blossoming flower,
dispelling the gloomy night…"
—
The story is based on Ms. Thanh Tien's speech delivered at the "Circle of Peace" gender equality training session on September 27, 2021.
The song "Shining from within" is part of the Project "Music-Based Storytelling: A New Approach for Promoting Gender Equality of Blind Women in Thua Thien Hue Province," which was initiated by Center for Research and Development and Knowledge Co-Creation (CKC) and collaborated with Center for Education Promotion and Empowerment of Women (CEPEW) through i4Equality Fund, with the participation of 19 visually impaired women from Thua Thien Hue Association of the Blind.