Kickoff Meeting for the "Empowering Women to Build a Strong and Sustainable Village" Project
17 September, 2019
ckcvietnam
On August 20th 2019, the Center for Knowledge Co-creation and Development Research (CKC) met with local representatives at the People's Committee of Quang Dien District, to launch a new project.  The project is "Empowering Women to Build a Strong and Sustainable Village" and is based in Ngu My Thanh Village.  It is funded by Australian Volunteers International (AVI) and will run for six months. The project is proposed and implemented by CKC.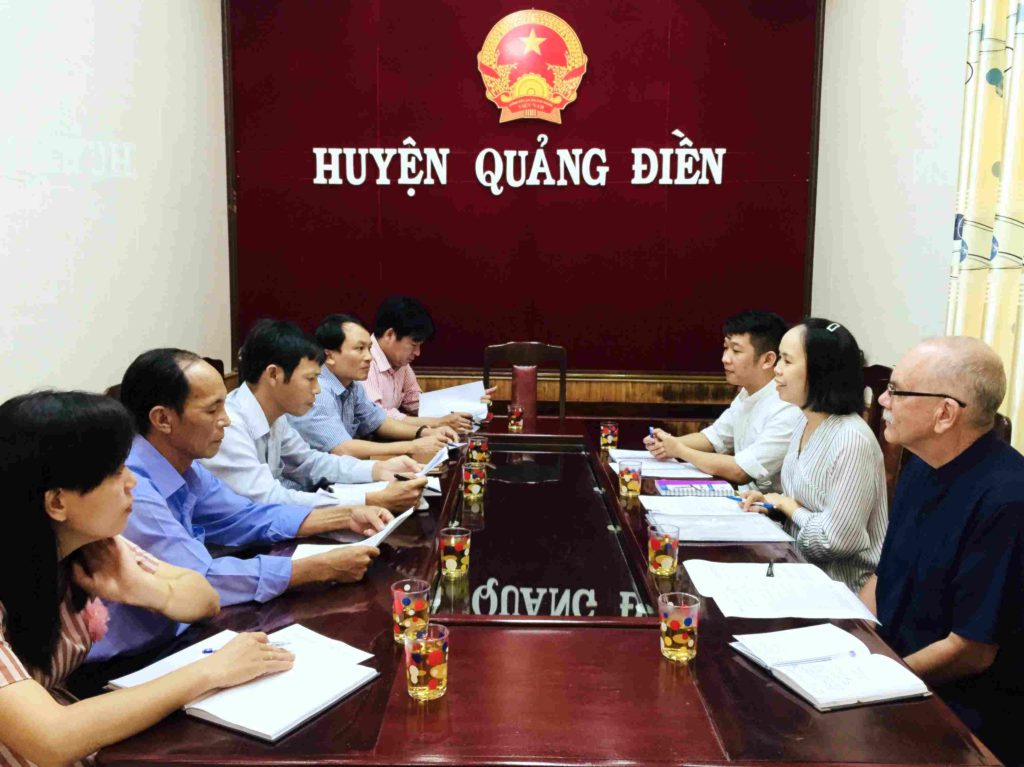 Attending the meeting, those present were the Director of CKC – Mrs. Nguyen Ngoc Khanh Van, the Chairman of Quang Dien District People's Committee – Mr. Nguyen Dinh Duc, the Vice Chairman of Quang Loi Commune People's Committee – Mr. Nguyen Hien, the Head of the Division of Natural Resources and Environment of the District – Mr. Hoang Tuan Nam, the Village Head of Ngu My Thanh – Mr. Nguyen Ty, the Business Development Advisor for CKC – Mr. Philip Thomas and other officers.
At this meeting, CKC listened to the local authority's instructions on how best to implement the upcoming project's activities. Speaking at the meeting, the Chairman of the District People's Committee – Mr. Nguyen Dinh Duc – highly appreciated the efforts of CKC and agreed to co-work with them on project implementation. He also stressed that the project is in accordance with the orientation and planning for the province and district. He noted the "Green Sunday Campaign" launched by the Chairman of the Provincial People's Committee at the start of 2019 and the "Say no to plastic bags and single-use plastic products" movement of the District in early July 2019.  These campaigns raise awareness of people about environmental protection and action on reducing plastic waste, and helping to build the city of "Heritage, culture, ecology, scenery and environmental friendliness".
"Empowering Women to Build a Strong and Sustainable Village" Project in Ngu My Thanh Village is funded by AVI and was approved by the Provincial People's Committee in the Decision No. 1831/QD-UBND on 30 July 2019. The goal of the project is to improve the environment through enhancing public awareness and changing locals' habits; improving the infrastructure for waste management and separation in markets, wharfs, lagoons and local tourist boats; and providing local women with rattan bags as a replacement for single-use plastic bags. The project aims to build an environmentally friendly community and to attract more visitors to support local tourism.
Quang Dien has potential for services and tourism development based on the Tam Giang lagoon system. The plan for the District is to promote heritage values and the  outstanding local culture while preserving and protecting the environment. The project is expected to be a successful model which will spread out to other localities and which will build up "a bright – green – clean and waste-free Thua Thien Hue".
Article & Photo: CKC