Support To Pa Ko Ethnic Minority Community Affected By Typhoons And Floods In A Luoi District, Thua Thien Hue Province
20 November, 2020
ckcvietnam
Shortly after the Typhoon No. 13 (Vamco), on November 17, CKC arrived to present support packages to the Pa Ko ethnic minority community affected by typhoons and floods in Ka Cu 1 village, Hong Van commune, A Luoi district.
Ka Cu 1 is one of the extremely difficult villages in the mountainous and ethnic minority areas of Thua Thien Hue province, with more than half of the households of the village being poor and near poor (126 poor and near poor households out of 250 households). "After this flood, I fear that the number of poor and near-poor households will increase and those who just escaped poverty last year may become vulnerable again." – According to Mr. Ho Van Cau – Head of Ka Cu 1 village.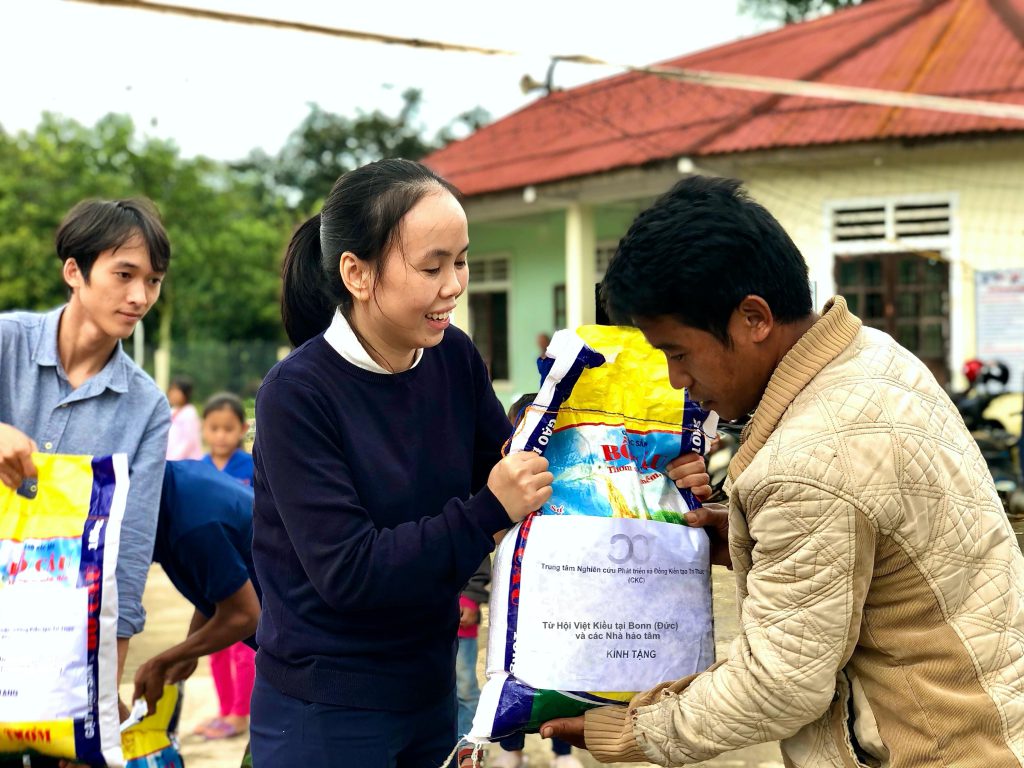 As the village head reported, the villagers' livelihoods depend primarily on growing rice and acacia, but the recent typhoons and prolonged floods have buried 60-70% of the cultivation lands and caused nearly all acacia trees to collapse. Moreover, as a result of the typhoons and floods, the roads leading to the forestry area and the border road between Vietnam and Laos were largely eroded, resulting in the sale of acacia trees to be blocked, and also the workers who plant acacia have lost their jobs during the past two months. The New Rice Ada Festival – the biggest and most important festival of the year of the Pa Ko ethnic group – is less exciting this year, because the upland rice had been soaked in water for so long that it started to sprout, which cannot be consumed and can only be fed to chickens and ducks.
Realising the plight of the Ka Cu 1's villagers, and receiving support from the group of overseas Vietnamese living in Bonn (Germany), contributors from Australia and Gia Lai, CKC delivered support packages comprising basic necessities with a total value of VND 17,650,000 to 83 poor households. CKC hopes that these support packages can temporarily sustain the villagers when their livelihoods have not yet been restored.
CKC thanks again for your love and companionship with our activities and for the people of Central Vietnam affected by the last series of natural disasters. We hope for your support in our future community development efforts.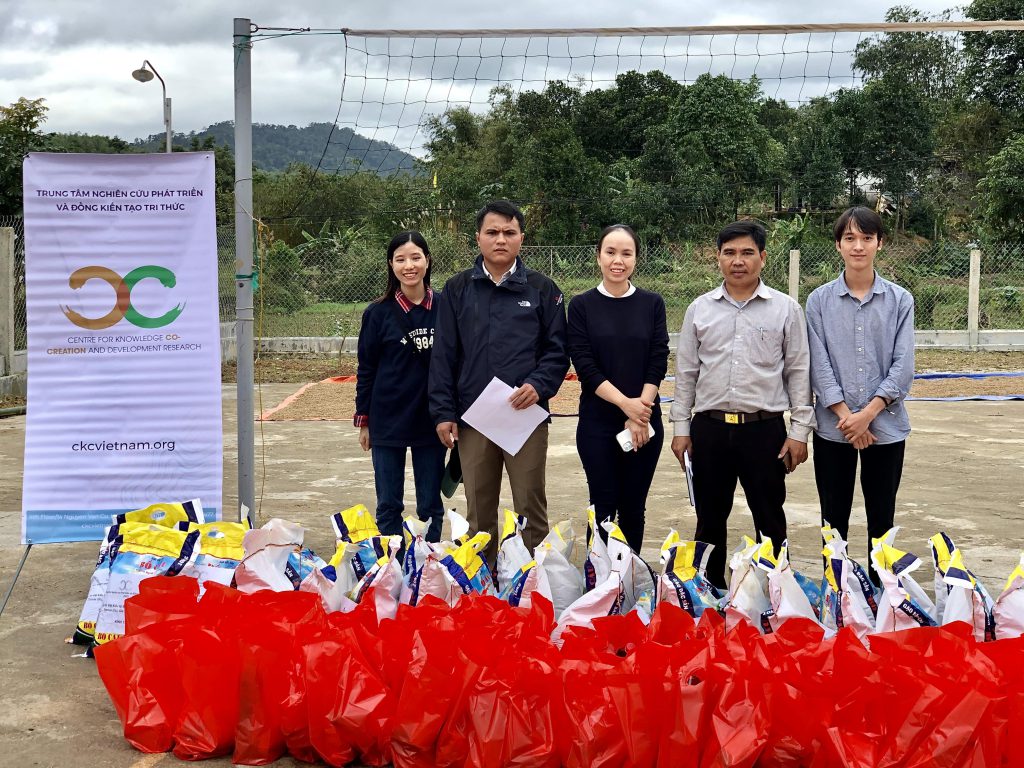 —
HỖ TRỢ BÃO LŨ CHO ĐỒNG BÀO DÂN TỘC THIỂU SỐ PA KÔ TẠI A LƯỚI, THỪA THIÊN HUẾ
Ngay sau khi cơn bão số 13 vừa đi qua, sáng qua (17.11), CKC đã đến thăm và chuyển tặng các gói hỗ trợ đến cộng đồng dân tộc thiểu số Pa Kô bị ảnh hưởng bởi thiên tai tại thôn Ka Cú 1, xã Hồng Vân, huyện A Lưới.
Ka Cú 1 là một trong những thôn đặc biệt khó khăn vùng dân tộc thiểu số và miền núi tỉnh Thừa Thiên Huế với hơn một nửa hộ dân của thôn thuộc diện hộ nghèo và cận nghèo (126 hộ nghèo và cận nghèo trên tổng số 250 hộ dân). "Sau đợt bão lũ này, tôi e rằng số hộ nghèo và cận nghèo sẽ tăng lên và những hộ vừa thoát nghèo năm vừa qua có thể sẽ tái nghèo." – Theo chia sẻ của ông Hồ Văn Câu – trưởng thôn Ka Cú 1.
Theo phản ánh của trưởng thôn, nguồn sinh kế của đồng bào nơi đây phụ thuộc hầu hết vào việc làm nương rẫy và trồng keo, tuy nhiên những đợt bão lũ kéo dài đã vùi lấp 60-70% diện tích đất ruộng và làm gãy đổ gần như toàn bộ cây keo. Không những thế, do hậu quả của bão lũ, con đường dẫn đến nơi canh tác rừng cũng như tuyến đường biên giới Việt-Lào hầu hết đều bị sạt lở, khiến cho việc mua bán cây keo bị đình trệ, nhân công trồng keo cũng mất việc làm trong suốt hai tháng vừa qua. Lễ hội Ada mừng lúa mới – lễ hội lớn và quan trọng nhất năm của dân tộc Pa Kô – năm nay tại thôn Ka Cú 1 lại diễn ra kém phần phấn khởi, do lúa rẫy bị ngâm nước quá lâu nên toàn bộ bị nảy mầm, không thể tiêu thụ được mà chỉ có thể cho gà vịt ăn.
Nhận thấy hoàn cảnh khó khăn của đồng bào thôn Ka Cú 1, và nhận được sự ủng hộ từ các anh chị tại Bonn (Đức), cùng các nhà hảo tâm từ Úc và Gia Lai, CKC đã chuyển tặng đến 83 hộ nghèo tại thôn các gói hỗ trợ nhu yếu phẩm với tổng trị giá 17,650,000 đồng. CKC hy vọng rằng những gói hỗ trợ này có thể tạm thời giúp đỡ người dân trong tình cảnh sinh kế của họ chưa kịp phục hồi sau bão lũ.
CKC lần nữa cảm ơn tình cảm và sự đồng hành của quý vị cùng hoạt động của Trung tâm cũng như người dân miền Trung ảnh hưởng bởi chuỗi thiên tai vừa qua. Chúng tôi rất mong nhận được sự ủng hộ của quý vị cho những hoạt động phát triển cộng đồng trong tương lai.